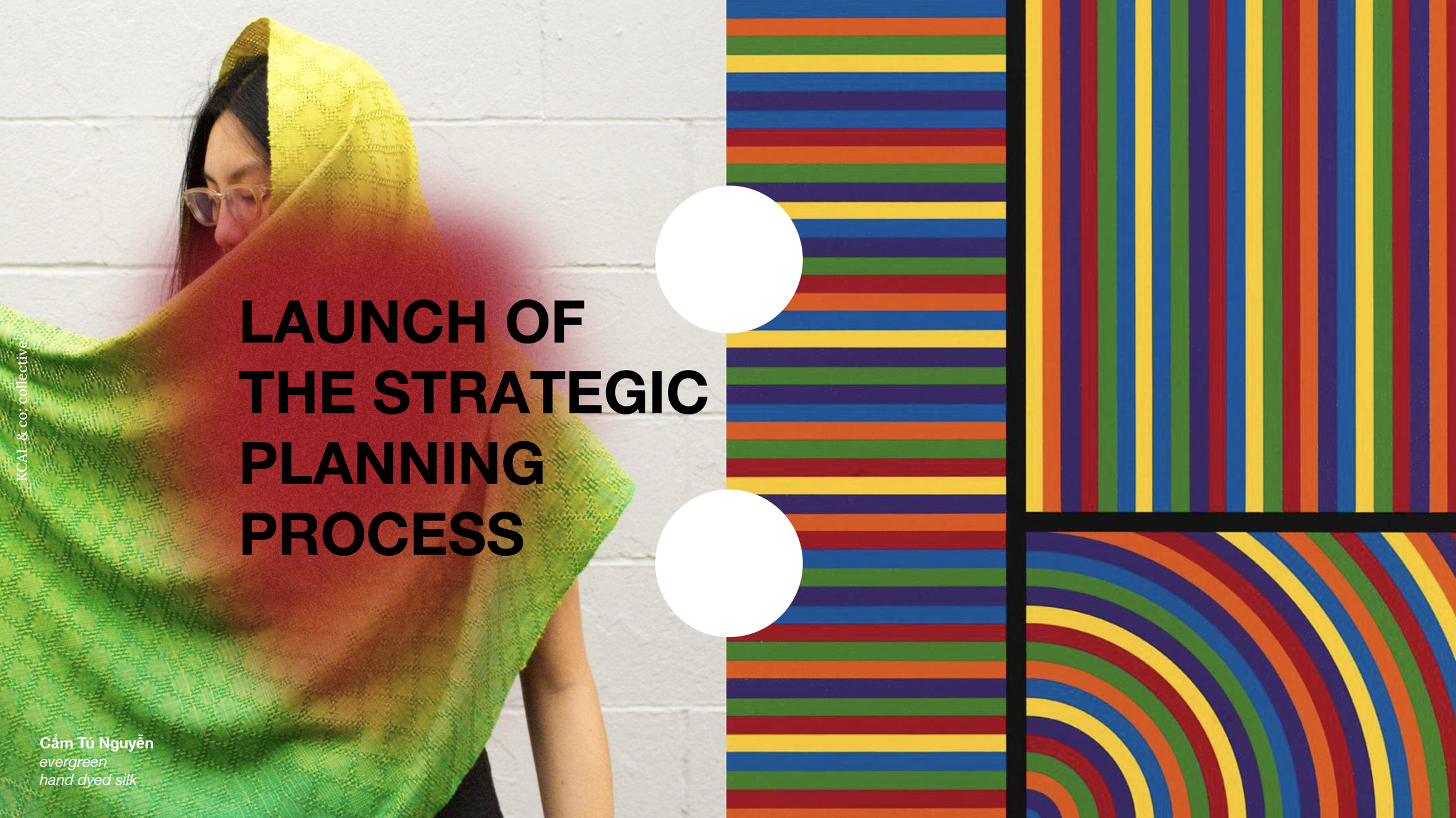 Strategic Plan
The Kansas City Art Institute is creating a new strategic vision that will serve as a North Star for the impact we want to have in the world through the intersection of arts and education.  
The process will be facilitated by Co:Collective, a creative and strategic transformation partner for purpose-led businesses who lead work with leadership teams to align behind a core story and build it into products, services, experiences, and communications.
Over the next few months, we will engage our community through surveys, workshops, and roundtables and collaboratively draft strategic priorities and values to create a living vision of the future trajectory of KCAI.
Learn about the Strategic Plan process in the presentation below.
Together we will build a strategic vision for the future that's co-created in a fundamentally inclusive way following a creative process that will be expressive of KCAI's community.
KCAI Strategic Planning Steering Committee
Board Representatives & Co-Chairs
Kim Newton, Co-Chair
Tracie Tempel, Co-Chair
Student Representatives
Kevin Hopkins ('23 Painting & Art History)
Bella Grace Cordero ('24 Filmmaking & Sound)
Community Representatives
Michael Fields, Community Volunteer, Richard J. Stern Foundation for the Arts
Margaret Silva, Former Board ('85 Sculpture)
Alumni Representatives
Edwing Mendez ('14 Graphic Design)
Holly Hayden ('03 Illustration)
Faculty Representatives:
Kevin Demery, Assistant Professor, Foundation
Marie McInerney, Associate Professor, Fiber
Staff Representatives
Evonne Briones, Director of Admissions Technology & Operations
Cory Imig, Alumni & Professional Practice Center Manager
co:Collective Core Team
Namreta Kumar, Senior Strategy Director, Experience
Namreta Kumar is an interdisciplinary designer who specializes in building intentional experiences. She started her career as an adjunct faculty at Parsons School for Design, focusing on creative computation and continues to mentor students to discover and sharpen their design research methodologies. Her curiosity and empathy empower her tenacity to embrace complex systems and successfully design around wicked problems. At co: she helps businesses live their purpose by supporting their journey to discover, define and develop products, programs, and services.
Derek Newberry, Senior Strategy Director, Organization & Culture Design
Derek Newberry is an organizational development consultant who specializes in helping leaders build great cultures and drive transformational change. Prior to joining co:, Derek was an Expert Consultant at BCG, where he worked with Fortune 500 clients to design and implement culture and capability-building programs to support large scale operating model transformations. Derek is also affiliated faculty in liberal and professional studies at the University of Pennsylvania, where he received his Ph.D. in Cultural Anthropology.  Derek delivers workshops on leadership influence, team- building and culture change at the Wharton School's Aresty Institute for Executive Education.  Derek is co-author of The Culture Puzzle: Harnessing the Forces that Drive Your Organization's Success (Berrett-Koehler) and Committed Teams: Three Steps to Inspiring Passion and Performance (Wiley Press), a Soundview Best Business Book.
Nick Dupey, Managing Director, Experience
Nick Dupey started his career as an artist and musician, graduating from The University of TN at Chattanooga with a degree in painting. His design career has been as a creative executive and thought leader with a proven track record of unlocking innovative potential for teams and clients. As a multidisciplinary designer and seasoned professional with over 20 years' experience, he has worked with a wide range of clients including MIT Media Lab and Harvard University. Nick leads Experience Design at co: where he focuses on building a world class human centered design approach while building out a body of work that is both collaborative and impactful.