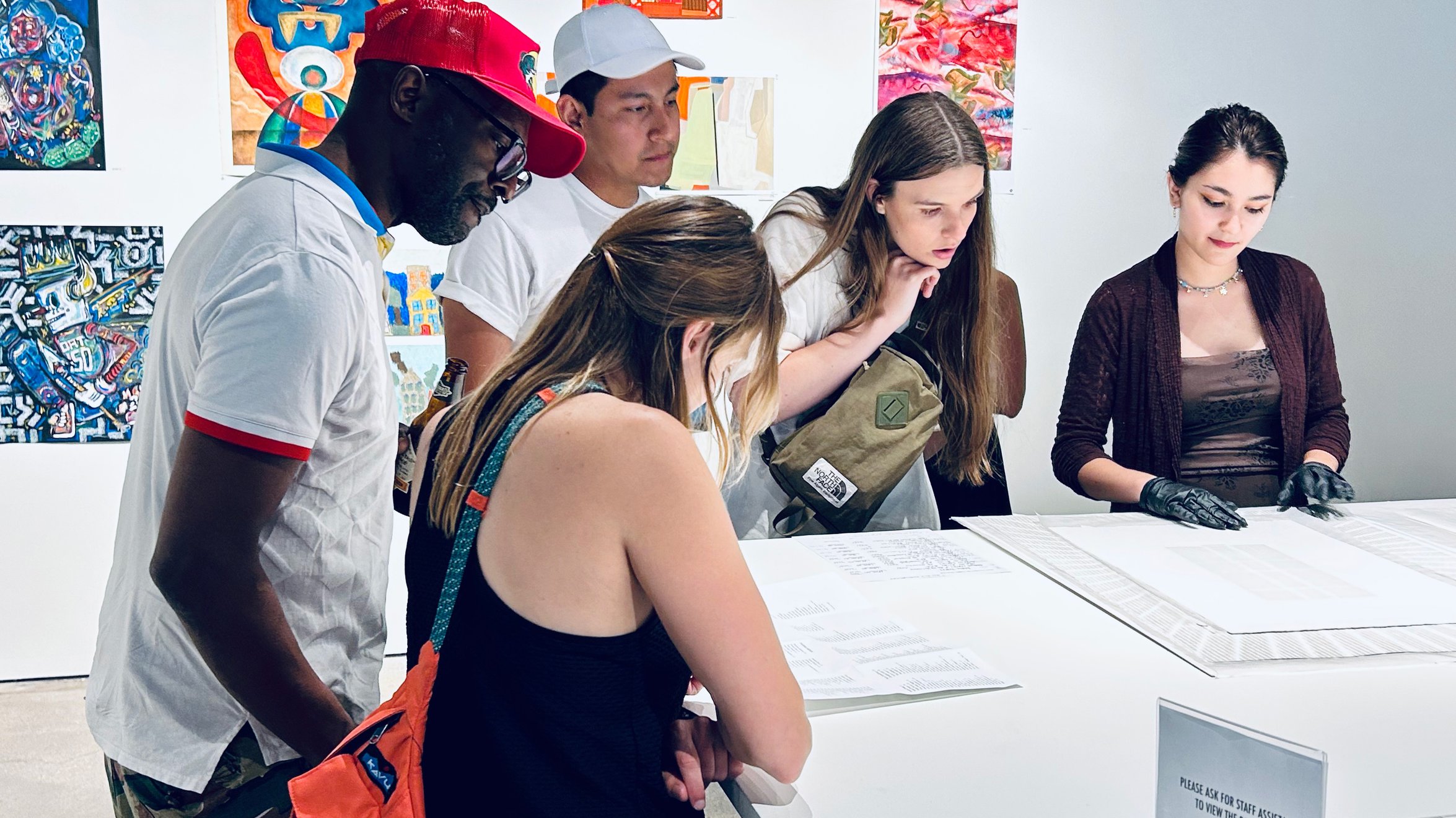 2023 Kansas City Flatfile + Digitalfile
07.07.2023 - 09.23.2023
The H&R Block Artspace at the KCAI is pleased to present the 2023 Kansas City Flatfile & Digitalfile, featuring artwork by over 250 regional emerging and established visual artists. 
Public Events
Opening Reception
Friday, July 7
6–8 p.m.
Closing Celebration
Friday, September 22
6–8 p.m.
The Kansas City Flatfile + Digitalfile is a dynamic, interactive, invitational biennial exhibition that has been hosted by the Artspace since 2001. This year's highly anticipated biennial will feature two-dimensional and time-based artwork by Kansas City visual artists working in painting, drawing, printmaking, collage, photography, textiles, ceramics, glass, mixed media, video, animation, and sound.
The 2023 Kansas City Flatfile + Digitalfile invites visitors to explore Flatfile cabinets filled with custom-made portfolios containing a diverse range of flat works and view time-based media included in the Digitalfile. 
Salon Walls + Cabinet Walls + Screening Rooms: Selections from the Flatfile & Digitalfile
An ongoing series of installations will feature artists selected by guest curators throughout the exhibition to offer visitors a dynamic and ever-changing experience. Guest curators are artists, educators, art historians, regional emerging curators, arts entrepreneurs, and organizers who have affiliations with artist-run exhibition spaces and other independent, creative endeavors. 
Community Curators
In partnership with the Artspace staff, a panel of Community Curators were invited to nominate new artists and collaborate with the Artspace to create new ways of engaging the exhibition, creating opportunities for artists and visitors alike. The 2023 Community Curators include Craig Deppen Auge (Kansas City Public Library), Wolfe Brack (InterUrban ArtHouse), Jackson Daughety (Artspace Block Fellow), Caitlin Horsmon (UMKC), Kimi Kitada (Charlotte Street), Hùng Lê (Artspace Jesse Howard Fellow), Cesar Lopez (Curiouser), and Sally Paul (Troost Gardens).